OVERVIEW
EAGLE II is an IDIQ contract to provide IT solutions through performance of a wide range of support services to all Department of Homeland Security (DHS) components. Under EAGLE II Functional Category 1, Abacus Technology can provide DHS components full range of services and products in support of developing, implementing, and maintaining technology to support the DHS mission and business functions across the entire lifecycle of a program.
SUPPORTED FUNCTIONAL AREAS
System Design, Development, Implementation, and Integration – Includes all phases of system design and development through deployment; plus the full range of infrastructure engineering, design, development, implementation and integration, including concept development, planning, requirements definition and analysis, systems design and development, integration, implementation, deployment, connectivity, wiring and cabling.
Software Design and Development – Includes all phases of software design, development, implementation, and integration, including concept development, planning, requirements definition and analysis, software design and development, coding and testing, production, deployment, implementation, integration, and software application maintenance.
Operations and Maintenance – Includes all operations and maintenance (O&M) solutions, processes, and procedures including: Help desk and field support services, network and security operations, and collaboration services (e.g., email, voice, video services, wiring and cable). The full range of O&M solutions from maintaining and upgrading individual pieces of hardware and software to full managed service solutions is included.
RELEVANT PROJECT EXPERIENCE
Abacus Technology has extensive experience supporting complex IT initiatives similar to Eagle II customer requirements. To learn more about our some of our past performance examples, such as performance base acquisition adherence, mobile app development, continuous diagnostic monitoring (CDM), virtualization, private cloud systems, and secure data centers, please click here.
CONTRACT BENEFITS
The Enterprise Acquisition Gateway for Leading Edge Solutions (EAGLE II) contract is the Department of Homeland Security's premier IDIQ vehicle for acquiring IT services. It is the largest single DHS contract vehicle and the only DHS-wide vehicle dedicated to IT services. Key benefits of EAGLE II include:
No fee to use the contract
Streamlined acquisition process
Leverages DHS's buying power
Labor rates for a variety of security clearance levels
Simplified ordering process.
A team led by Abacus Technology has been selected by DHS as one of several prime contractors to provide critical IT services to support the execution of its mission.
ABACUS QUALITY ASSURANCE
Abacus Technology's Quality Assurance Program (QAP) is based on the philosophy of always being responsive to our customers – meeting and exceeding their expectations – and providing them with the very best products and services on-time and within budget. The cornerstone of our program is the belief that quality is not accidental, but rather a mind-set demonstrated by the firm's top executives and instilled among all professional staff members. Key elements of our QAP are as follows:
Assigning the right people to each job to ensure its success
Holding staff members accountable for the quality of their work
Motivating employees to "go the extra mile" for our clients
Maintaining a work environment that fosters continuous process improvement
Taking nothing for granted; constantly measuring our progress and performance
Listening to our clients and quickly addressing any issues or concerns.
QUALITY ASSURANCE SURVEILLANCE PLAN/PERFORMANCE METRICS
For EAGLE II tasks, we will also implement a formal Quality Assurance Surveillance Plan (QASP) and dedicate the resources necessary to effectively and systematically evaluate overall performance at established project milestones. Performance metrics will be defined to ensure that quality service is always being delivered, including:
Personnel Management – to measure our ability to provide fully-qualified personnel in response to changing situations and short term projects as well as select, retain, support, and replace personnel as needed to meet task requirements.
Technical Performance Management – to measure the acceptability of/satisfaction with our work products and services in terms of content, contribution, usability, and level of support provided. These measures will be tailored to the deliverable items specified by the task requirements.
Schedule Management – to measure the timeliness of our deliverables, monthly progress reports, technical briefings, presentations, and other critical activities in accordance with the integrated master plan for all project tasks.
Cost Management – to measure our ability to forecast, track, and control labor and non-labor costs (e.g., planned vs. actual, burn rates) and to introduce cost-saving measures.
Abacus Technology's efforts in these areas are buoyed by best practices and lessons learned from many years of hands-on experience as well as our following certifications: Capability Maturity Model Integration (CMMI) Level 3 for Development; ISO 9001 for IT Project Management and Systems Engineering; and ISO 20000 for IT Service Management.
QUALITY MANAGEMENT BOARD
Abacus also conducts periodic EAGLE II Program Reviews by our in-house Quality Management Board. This Board is chaired by the President of Abacus Technology with our Senior Vice President and Contracts/Legal Advisor as standing members, and supported by select subject matter experts as required. The Board provides executive level visibility into ongoing projects and corporate function assistance when necessary. Each review will cover the following key criteria: Customer satisfaction, budget maintenance, schedule adherence, technical innovation, contract compliance, and staff productivity. DHS management staff will be invited to participate in these reviews as appropriate.
ABACUS-EXCLUSIVE TEAM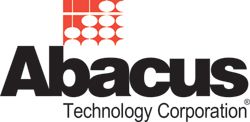 Abacus Technology Corporation
Abacus is an experienced prime contractor with a 30-year history executing information technology support contracts. We are minority owned, a Microsoft Certified Gold Partner and are ISO 9001, ISO 20000, and CMMI Level 3 certified. Abacus has an extensive and impressive track record of successfully managing large, complex IT contracts across numerous tasks orders, multiple subcontractors, and a variety of disciplines. Since 1983, we have successfully managed more than 730 task orders worth almost $650 million on 40+ IDIQ contracts spanning 23 Federal agencies. With no exceptions, all work was completed to the complete satisfaction of our customers. In addition, Abacus recognizes that it is essential to team effectively to meet customers' increasingly complex and evolving requirements and have sought out the best industry partners to complement our own skills and experience to provide outstanding support to DHS.

Datamaxx Group
Since 1991, Datamaxx Group, a certified women-owned small business (WOSB), has been a leading provider of communications and application software solutions to law enforcement, criminal justice, public safety, and homeland security agencies. Datamaxx is recognized as a domain expert and has built a well-recognized name in its markets. Datamaxx serves 70 percent of the law enforcement communications market in North America and supports more than 500,000 end users worldwide.

Hexagon US Federal (Hexagon)
Intergraph Government Solutions (now Hexagon US Federal) was created as an independent and wholly owned subsidiary of Intergraph Corporation in October 2010 as a result of the Hexagon AB acquisition. Hexagon retains eligibility to have access to classified information or to compete for classified contracts and provides a variety of geospatially powered solutions to the U.S. Government and defense, intelligence, and security agencies. Hexagon's solution offerings, built on open standards, include anti-terrorism and force protection, enterprise information management, maintenance and installation management, cyber and border security, geospatial intelligence production and exploitation, motion video exploitation, and others. The company has a supported a variety of DHS programs since 2006. Both the U.S. Customs and Border Protection (CBP) and the Transportation Security Administration (TSA) use the Hexagon Joint Configuration Management System (JCMIS) application to store and access digital technical manuals required to maintain security equipment.

MicroSystems Automation Group (MSAG)
MSAG is a certified SDVOSB with nearly 20 years of excellent past performance on both Federal Government and commercial projects. From its roots as a software development firm, MSAG has diversified over time to provide other areas of professional services as a trusted resource to their customers. MSAG applies proven processes as a way of reducing risk to the client. This includes, for example, applying complete lifecycle approaches to software development in accordance with CMMI Level 3 methodologies. Furthermore, recruiting, hiring, program management, policy development, and human resource management have all become core competencies for MSAG.

Secure Solutions
Secure Solutions, LLC is an 8(a) Woman-Owned Small Business, headquartered in McLean, VA. The company has supported DHS for more than 10 years including providing IT services to DHS CBP (Passenger Services and Cargo Modernization) and the U.S. Citizen and Immigration Services (CIS). DHS is Sure Secure's largest customer. Sure Secure has provided information security solutions since 2004 with core expertise in cyber security.
OTHER PARTNERS
4D Security Solutions
Blue Ridge Information System
Ciena
Cougar Software Inc.
Crossfire Consulting
Elite Government Solutions
Highland Technology Services
INCATech LLC
IP Data Solutions
LGS
Metron Scientific Solutions
Omnitec Solutions
Planet Associates
Plexus Scientific
Sanborn
Somat Engineering
STS
Technisource
Trilogy
Unify
CONTRACT DETAILS
| | |
| --- | --- |
| Contracting Agency: | US Department of Homeland Security |
| Contract Number: | HSHQDC-14-D-E2019 |
| Contract Type: | Agency-specific IDIQ |
| Prime or Subcontract: | Prime |
| Period of Performance: | 5/9/2014-9/26/2018 Base; 9/27/2018-9/26/2020 (2 year option period) |
| Ceiling: | $22B |
| Task Order Types: | Cost Reimbursement, Time and Materials (T&M), Labor Hour, and Firm-Fixed Price |
| Task Orders: | USCG Task Order 70Z04418F18002700 |
FOR MORE INFORMATION
Abacus EAGLE II inquiries: DHSEAGLE@abacustech.com
For information about the EAGLE-2 contract, visit the DHS website at: https://www.dhs.gov/eagle-ii